Medical training that supports "Practice" in the medical field which requires a high level of success, treatment situation, and realization of an innovative manipulative model for medical device evaluation

Recreation of vascular by a special manufacturing method using PVA-H(polyvinyl alcohol hydrogel)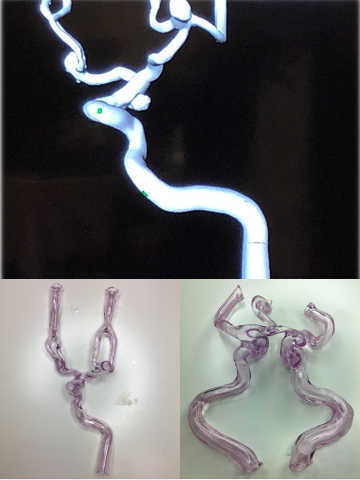 At the core of Blue Practice's products and the solution is a vascular model that is realized through a special manufacturing process using PVA-H(polyvinyl alcohol hydrogel) synthetic resin to recreate the thickness, dynamic viscoelasticity (stiffness/softness), and friction (slippage) of a human vascular with extreme accuracy.** In addition to standard shapes for medical training, we can also create individualized models of specific cases for treatment simulation and medical device evaluation.

**Texture creativity has been demonstrated by several medical specialists through tests of medical devices.
Optional tools for simple setup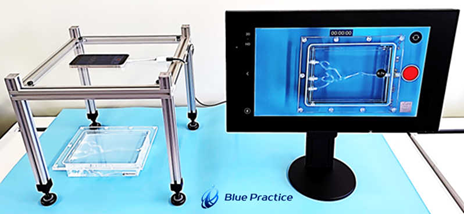 Blue Practice offers a simple setup tool for training with the vascular model projected on a monitor. This reduces the troublesomeness in operation for installation and allows the device to be used at any location and time

Microsensors for various purposes and accuracies can be built-in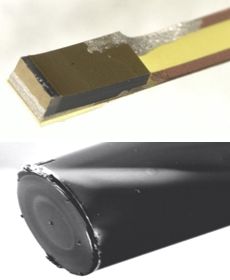 Microsensors for different purposes and accuracies can be integrated into the vascular model. These sensors make it possible to numerically visualize the pressure applied inside blood vessels, displacement of vessel walls, and stress on blood vessels. Blue Practice utilizes this sensor system to evaluate the performance of medical devices and to support surgical simulations.

We offer three different product packages for the vascular treatment product.
Vascular Treatment Training Model

Vascular Treatment Simulation Package

Medical Device testing Package

(for vascular treatment devices)